T h e C o t o p a x i a n P r e s s
---
Torah | Torah
---
Jesus was a common name in the Old Testament.
this page is under study.
---
Gentile Christians pronounce his Name Jesus, from N.T. Greek: Ἰησοῦς Iēsous
Hebrew Christians say Yeshua is His Name. This from the same N.T. Greek.
The Hebrew Bible (commonly called the Old Testament) has Joshua (from יהושוע Yĕhowshuwa`
The Septuagint (LXX) has: Ἰησοῦ-Ἰησοῦν/Ἰησοῦς-Jeshua Jesus
The Apocrypha, I Esdras, translates the word Jesus.
All the same name/word.
From the Thayer lexicon as found on Blue Letter Bible website: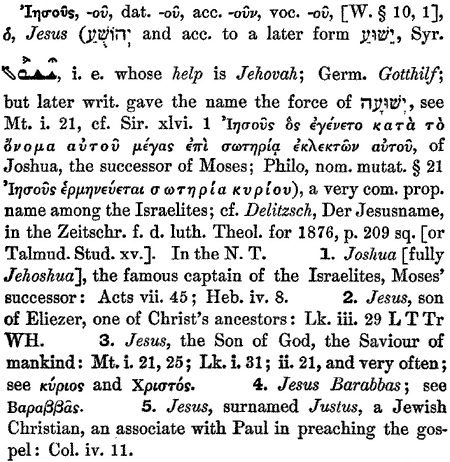 Joshua was the name of the person that led the Jews into the Promised Land.

Joshua יהושוע Yĕhowshuwa` was the name of the High Priest that rebuilt the Temple. The Septuagint has Ἰησοῦ/ Ἰησοῦν/ Ἰησοῦς Jeshua Jesus.

comment:

The name Jesus was more common in the O.T. than in the N.T.

That is, the record shows more people with the name Jesus in the O.T than in the N.T.

The prophecy of Zechariah would have had the Jews aware of a future High Priest named the BRANCH and also named Joshua- יהושוע Yĕhowshuwa`- Ἰησοῦ- Ἰησοῦν- Ἰησοῦς- Jeshua - Jesus. (All the same name/word.)

Joshua- יהושוע Yĕhowshuwa` and in the LXX Greek- Ἰησοῦ- Ἰησοῦν- Ἰησοῦς- (which transliterates to Jeshua from the Hebrew and as - Jesus from the Greek.) Note that Ἰησοῦ- Ἰησοῦν- Ἰησοῦς are also used by the Septuagint (LXX) for יֵשׁוּעַ

Yeshuwa`, the shortened form of יהושוע Yĕhowshuwa`. Compare יֵשׁוּעַ

Yeshuwa` at Ezra 3:8 " Jeshua the son of Jozadak".

He would be Ruler and High Priest.

Pilate knew the high priest were jealous of Jesus. (Matthew 27:18 "For he knew that for envy they had delivered him.")

He was of the correct lineage, had the correct name, and proved his deity with many miracles.

The high priests rejected Messiah. (John 19:15 "We have no king but Ceasar") His disciples knew Jesus was Messiah (Matthew 24:3 ..."what shall be the sign of thy coming and of the end of the world?"). The high priest also knew he was Messiah, but they rejected him.

You can bet when he rode into Jerusalem on a colt they knew exactly who he was.

O.T. - Zechariah 9:9 Rejoice greatly, O daughter of Jerusalem: behold, thy King cometh unto thee: he is just, and having salvation; lowly, and riding upon an ass, and upon a colt of an ass.

N.T. - Mark 11:7 And they brought the colt to Jesus, and cast their garments on him; and he sat upon him.

vs8 And many spread their garments in the way: and others cut down branches off the trees, and strawed them in the way.

vs9 And they that went before, and they that followed, cried, saying, Hosanna; Blessed is he that cometh in Name of Jehovah.

vs10 Blessed be the kingdom of our father David, that cometh n the name of the Lord: Hosanna in the highest.

vs11 And Jesus entered into Jerusalem, and into the temple: and when he had looked round about upon all things, and now the eventide was come, he went out unto Bethany with his twelve.

Note "with his twelve" and compare yet again:

Zechariah 3:8 Hear now, O Joshua the high priest, thou, and thy fellows that sit before thee: for they are men wondered at: for, behold, I will bring forth my servant the BRANCH.

This Jesus of Nazareth fit prophecies of Zechariah completely. Of course they knew he was the Messiah.

However, Jesus asked Jehovah (Father) to forgive them, sky is darkened to show constellation and fact that God's promises to Israel stand. God has NOT cast off the Jew/Hebrew/Israel. If salvation is come to the Gentile by their offence, HOW MUCH MORE THEIR FULLNESS. When the Jew/Hebrew/Israel does look upon Jesus and the blindness and hardness is lifted from them they will see him as Jehovah Jesus Messiah. Will they weep as did Peter after he denied Jesus? Doesn't matter, they are forgiven, all Israel shall be saved. In the meantime Agape is the way to embrace the Jew/Hebrew/Israeli/Israel.

Pilate & the soldiers put robes on Jesus some representing sin...

O.T. - Zechariah 3:3 Now Jeshua{gr.Jesus} was clothed in filthy raiment,

N.T.- John 19:2 ....and they put on him a purple robe.

N.T.- Matthew 27:28 And they stripped him, and put on him a scarlet robe

and some extravagant, representing purity.

O.T. -Zechariah 3:4 ...Take away the filthy garments from him. And unto him he said, Behold, I have caused thine iniquity to pass from thee, and I will clothe thee with change of raiment.

N.T.- Luke 23:11 And Herod and his men of war set him at nought, and mocked him, and arrayed him in a gorgeous robe, and sent him agian to Pilate. (this was an extremely expensive robe that Pilate took as a gift from Herod, hence they became friends that day - vs 12. Further proof that he kept this robe is in Matthew 27:31; ...they took the robe off from him, and put his own raiment on him, and led him away to crucify him.

See also Jesus wore the colors of the veil - Blue white purple Scarlet Blue

a twisted crown of thorns was put on Jesus.

O.T. -Zechariah 6:11 Then take silver and gold, and make crowns, and set [them] upon the head of Joshua the son of Josedech, the high priest;

N.T.- John 19:2 And the soldiers platted a crown of thorns, and put it on his head, ...

N.T. - Matthew 27:29 And when they had platted a crown of thorns, they put it upon his head...

He would be Ruler and High Priest

O.T. -Zechariah 6:14 Even he shall build the temple of the LORD; and he shall bear the glory, and shall sit and rule upon his throne; and he shall be a priest upon his throne: and the counsel of peace shall be between them both.

N.T. Greek for "Jesus" - just a few examples.

Mark15:37 Ἰησοῦς Iēsous Jesus

verse 34: Ἰησοῦς Iēsous Jesus

Mark 16:6 Ἰησοῦς Iēsous Jesus

Haggai - Chapter 1:1

and to Joshua

יהושוע Yĕhowshuwa`

1:1

In the second year of Darius the king, in the sixth month, in the first day of the month, came the word of the LORD by Haggai the prophet unto Zerubbabel the son of Shealtiel, governor of Judah, and to Joshua the son of Josedech, the high priest, saying,

LXX: 1:1 ∂ In the second year of Darius the king, in the sixth month, on the firs [day] of the month, the word of the Lord came by the hand of the prophet Haggai{gr.Aggaeus}, saying, Speak to Zerubbabel{gr.Zorobabel} the son of Shealtiel{gr.Salathiel}, of the tribe of Judah{gr.Juda}, and to Jeshua{gr.Jesus} the son of Jozadak{gr.Josedec}, the high priest, saying,

LXX Greek: 1:1 ἐν τῷ δευτέρῳ ἔτει ἐπὶ Δαρείου τοῦ βασιλέως ἐν τῷ μηνὶ τῷ ἕκτῳ μιᾷ τοῦ μηνὸς ἐγένετο λόγος κύριου ἐν χειρὶ Αγγαιου τοῦ προφήτου λέγων εἰπὸν δὴ πρὸς Ζοροβαβελ τὸν τοῦ Σαλαθιηλ ἐκ φυλῆς Ιουδα καὶ πρὸς Ἰησοῦν τὸν τοῦ Ιωσεδεκ τὸν ἱερέα τὸν μέγαν λέγων

1:2

Thus speaketh the LORD of hosts, saying, This people say, The time is not come, the time that the LORDís house should be built.

1:3

Then came the word of the LORD by Haggai the prophet, saying,

1:4

Is it time for you, O ye, to dwell in your cieled houses, and this house lie waste?

1:12

Then Zerubbabel the son of Shealtiel, and Joshua the son of Josedech, the high priest, with all the remnant of the people, obeyed the voice of the LORD their God, and the words of Haggai the prophet, as the LORD their God had sent him, and the people did fear before the LORD.

and Joshua

h3091

יהושוע Yĕhowshuwa`

LXX: Haggai 1:12 ∂ And Zerubbabel{gr.Zorobabel} the son of Shealtiel{gr.Salathiel}, of the tribe of Judah{gr.Juda}, and Jeshua{gr.Jesus} the son of Jozadak{gr.Josedec}, the high priest, and all the remnant of the people, hearkened to the voice of the Lord their God, and the words of the prophet Haggai{gr.Aggaeus}, according as the Lord their God had sent him to them, and the people feared before the Lord.

LXX Greek Haggai 1:12 καὶ ἤκουσεν Ζοροβαβελ ὁ τοῦ Σαλαθιηλ ἐκ φυλῆς Ιουδα καὶ Ἰησοῦς ὁ τοῦ Ιωσεδεκ ὁ ἱερεὺς ὁ μέγας καὶ πάντες οἱ κατάλοιποι τοῦ λαοῦ τῆς φωνῆς κυρίου τοῦ θεοῦ αὐτῶν καὶ τῶν λόγων Αγγαιου τοῦ προφήτου καθότι ἐξαπέστειλεν αὐτὸν κύριος ὁ θεὸς αὐτῶν πρὸς αὐτούς καὶ ἐφοβήθη ὁ λαὸς ἀπὸ προσώπου κυρίου

1:13

Then spake Haggai the LORDís messenger in the LORDís message unto the people, saying, I am with you, saith the LORD.

1:14

And the LORD stirred up the spirit of Zerubbabel the son of Shealtiel, governor of Judah, and the spirit of Joshua the son of Josedech, the high priest, and the spirit of all the remnant of the people; and they came and did work in the house of the LORD of hosts, their God,

LXX: 1:14 And the Lord stirred up the spirit of Zerubbabel{gr.Zorobabel} the son of Shealtiel{gr.Salathiel}, of the tribe of Judah{gr.Juda}, and the spirit of Jeshua{gr.Jesus} the son of Jozadak{gr.Josedec}, the high priest, and the spirit of the remnant of all the people; and they went in, and wrought in the house of the Lord Almighty their God,

1:15

In the four and twentieth day of the sixth month, in the second year of Darius the king.

Haggai 2:2

Speak now to Zorobabel the son of Salathiel of the tribe of Juda and to Jesus the son of Josedec the high priest and to all the remnant of the people saying

Haggai 2:4
Yet now be strong O Zorobabel saith the Lord and strengthen thyself O Jesus the high priest the son of Josedec and let all the people of the land strengthen themselves saith the Lord and work for I am with you saith the Lord Almighty

Zec 3:1

And he shewed me Joshua the high priest standing before the angel of the LORD, and Satan standing at his right hand to resist him.

LXX καὶ ἔδειξέν μοι Ἰησοῦν τὸν ἱερέα τὸν μέγαν ἑστῶτα πρὸ προσώπου ἀγγέλου κυρίου καὶ ὁ διάβολος εἱστήκει ἐκ δεξιῶν αὐτοῦ τοῦ ἀντικεῖσθαι αὐτῷ

me Joshua

h3091 יהושוע Yĕhowshuwa`

3:1

And he shewed me Joshua the high priest standing before the angel of the LORD, and Satan standing at his right hand to resist him.

LXX: 3:1 ∂ And the Lord shewed me Jeshua{gr.Jesus} the high priest standing before the angel of the Lord, and the Devil stood on his right hand to resist him.

3:2

And the LORD said unto Satan, The LORD rebuke thee, O Satan; even the LORD that hath chosen Jerusalem rebuke thee: is not this a brand plucked out of the fire?

3:3

Now Joshua was clothed with filthy garments, and stood before the angel.

LXX: 3:3 Now Jeshua{gr.Jesus} was clothed in filthy raiment, and stood before the angel.

3:4

And he answered and spake unto those that stood before him, saying, Take away the filthy garments from him. And unto him he said, Behold, I have caused thine iniquity to pass from thee, and I will clothe thee with change of raiment.

3:5

And I said, Let them set a fair mitre upon his head. So they set a fair mitre upon his head, and clothed him with garments. And the angel of the LORD stood by.

3:6

And the angel of the LORD protested unto Joshua, saying,

LXX: 3:6 And the angel of the Lord testified to Jeshua{gr.Jesus}, saying,

3:7

Thus saith the LORD of hosts; If thou wilt walk in my ways, and if thou wilt keep my charge, then thou shalt also judge my house, and shalt also keep my courts, and I will give thee places to walk among these that stand by.

3:8

Hear now, O Joshua the high priest, thou, and thy fellows that sit before thee: for they are men wondered at: for, behold, I will bring forth my servant the BRANCH.

LXX: 3:8 Hear now, Jeshua{gr.Jesus} the high priest, thou, and thy neighbours that are sitting before [thee]: for they are diviners, for, behold, I bring forth my servant The Branch.

3:9

For behold the stone that I have laid before Joshua; upon one stone shall be seven eyes: behold, I will engrave the graving thereof, saith the LORD of hosts, and I will remove the iniquity of that land in one day.

LXX: 3:9 For [as for] the stone which I have set before the face of Jeshua{gr.Jesus}, on the one stone are seven eyes: behold, I am digging a trench, saith the Lord Almighty, and I will search out all the iniquity of that land in one day.

3:10

In that day, saith the LORD of hosts, shall ye call every man his neighbour under the vine and under the fig tree.

Zechariah 6

6:9

And the word of the LORD came unto me, saying,

6:10

Take of them of the captivity, even of Heldai, of Tobijah, and of Jedaiah, which are come from Babylon, and come thou the same day, and go into the house of Josiah the son of Zephaniah;

6:11

Then take silver and gold, and make crowns, and set them upon the head of Joshua the son of Josedech, the high priest;

LXX: 6:11 And thou shalt take silver and gold, and make crowns, and thou shalt put [them] upon the head of Jeshua{gr.Jesus} the son of Jozadak{gr.Josedec} the high priest;

6:12

And speak unto him, saying, Thus speaketh the LORD of hosts, saying, Behold the man whose name is The BRANCH; and he shall grow up out of his place, and he shall build the temple of the LORD:

6:13

Even he shall build the temple of the LORD; and he shall bear the glory, and shall sit and rule upon his throne; and he shall be a priest upon his throne: and the counsel of peace shall be between them both.

6:14

And the crowns shall be to Helem, and to Tobijah, and to Jedaiah, and to Hen the son of Zephaniah, for a memorial in the temple of the LORD.

6:15

And they that are far off shall come and build in the temple of the LORD, and ye shall know that the LORD of hosts hath sent me unto you. And this shall come to pass, if ye will diligently obey the voice of the LORD your God.

zec 6:11

Then take silver and gold, and make crowns, and set [them] upon the head of Joshua the son of Josedech, the high priest;

LXX καὶ λήψῃ ἀργύριον καὶ χρυσίον καὶ ποιήσεις στεφάνους καὶ ἐπιθήσεις ἐπὶ τὴν κεφαλὴν Ἰησοῦ τοῦ Ιωσεδεκ τοῦ ἱερέως τοῦ μεγάλου

Joshua

h3091

יהושוע Yĕhowshuwa` LXX: Ἰησοῦ Jeshua Jesus

From the Apocrypha

1.1ES | 1 Esdras 5:5
The priests the sons of Phinees the son of Aaron Jesus the son of Josedec the son of Saraias and Joacim the son of Zorobabel the son of Salathiel of the house of David out of the kindred of Phares of the tribe of Judah

2.1ES | 1 Esdras 5:8
...he other parts of Jewry every man to his own city who came with Zorobabel with Jesus Nehemias and Zacharias and Reesaias Enenius Mardocheus Beelsarus Aspharasus Reelius Roimus and Baana their guides

3.1ES | 1 Esdras 5:24
The priests the sons of Jeddu the son of Jesus among the sons of Sanasib nine hundred seventy and two the sons of Meruth a thousand fifty and two

4.1ES | 1 Esdras 5:48
Then stood up Jesus the son of Josedec and his brethren the priests and Zorobabel the son of Salathiel and his brethren and made ready the altar of the God of Israel

5.1ES | 1 Esdras 5:56
...ing to the temple of God at Jerusalem began Zorobabel the son of Salathiel and Jesus the son of Josedec and their brethren and the priests and the Levites and all they that were come unto Jerusalem out of the captivity

6.1ES | 1 Esdras 5:58
...ted the Levites from twenty years old over the works of the Lord Then stood up Jesus and his sons and brethren and Cadmiel his brother and the sons of Madiabun with the sons of Joda the son of Eliadun with their sons and brethren all Levite...

7.1ES | 1 Esdras 5:68
So they went to Zorobabel and Jesus and to the chief of the families and said unto them We will build together with you

8.1ES | 1 Esdras 5:70
Then Zorobabel and Jesus and the chief of the families of Israel said unto them It is not for us and you to build together an house unto the Lord our God

9.1ES | 1 Esdras 6:2
Then stood up Zorobabel the son of Salatiel and Jesus the son of Josedec and began to build the house of the Lord at Jerusalem the prophets of the Lord being with them and helping them

10.1ES | 1 Esdras 9:19
Of the sons of Jesus the son of Josedec and his brethren Matthelas and Eleazar and Joribus and Joadanus

11.1ES | 1 Esdras 9:48
Also Jesus Anus Sarabias Adinus Jacubus Sabateas Auteas Maianeas and Calitas Asrias and Joazabdus and Ananias Biatas the Levites taught the law of the Lord making them withal to understand it

12.SIR | Ecclesiasticus (Sirach) 1:0
A Prologue made by an uncertain Author This Jesus was the son of Sirach and grandchild to Jesus of the same name with him this man therefore lived in the latter times after the people had been led away captive and called home again and almo...

13.SIR | Ecclesiasticus (Sirach) 46:1
Jesus the son a Nave was valiant in the wars and was the successor of Moses in prophecies who according to his name was made great for the saving of the elect of God and taking vengeance of the enemies that rose up against them that he migh...

14.SIR | Ecclesiasticus (Sirach) 49:12
So was Jesus the son of Josedec who in their time builded the house and set up an holy temple to the Lord which was prepared for everlasting glory

15.SIR | Ecclesiasticus (Sirach) 50:27
Jesus the son of Sirach of Jerusalem hath written in this book the instruction of understanding and knowledge who out of his heart poured forth wisdom

16.SIR | Ecclesiasticus (Sirach) 51:1
A Prayer of Jesus the son of Sirach I will thank thee O Lord and King and praise thee O God my Saviour I do give praise unto thy name

17.1MC | 1 Maccabees 2:55
Jesus for fulfilling the word was made a judge in Israel
---
---
Copyright © 2008-2014 Nelson Moore