A Passover Haggadah
(for Christians) 2019
The 2019 Passover begins at sunset on Friday, April 19, which also begins the weekly Shabbat.
Printer Friendly Version - PDF
http://www.cotopaxi-colorado.com/Passover/The-2019-Haggadah-PRINTOUT.pdf
"Let not therefore anyone be-judging YOU in eating and in drinking or in part of-(a)-feast or of-(a)-new-moon or of-sabbaths" -Colossians 2:16
"...For even our passover was-sacrificed, Messiah." -1Cor.5:7b
"And the blood hath become a sign (את owth) for you
on the houses (LXX - οἰκιῶν) where ye are" -Exodus 12:13a
"Are YOU not knowing absolutely that YOU are the sanctuary (ναὸς - naos) of the God,
and the spirit of God is dwelling (οἰκεῖ - oikei) in YOU?" - 1 Corinthians 3:16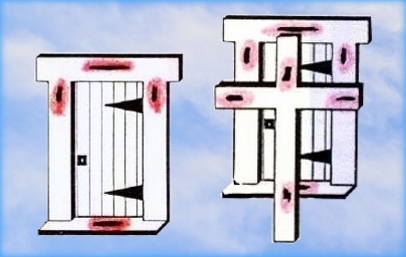 "And ye shall take a bunch of hyssop, and dip it in the blood that is in the basin, and strike the lintel and the two side-posts with the blood that is in the basin; and none of you shall go out of the door of his house until the morning." - Exodus 12:22
And the blood shall be to you for a token upon the houses where ye are: and when I see the blood, I will pass over (וּפָסַחְתִּי) you, and there shall no plague be upon you to destroy you, when I smite the land of Egypt. And this day shall be unto you for a memorial, and ye shall keep it a feast to Jehovah: throughout your generations ye shall keep it a feast by an ordinance for ever. Exodus 12:13-14
---
Preface
The Digressions are linked within the (online) Haggadah, so you may access them at the appropriate time during the Seder.
It has been said that there are over 2000 Haggadahs. The order of the steps in these Haggadahs sometimes vary.
This Haggadah has 15 steps, although please note that it is not necessary to follow a strict order to be able to celebrate Christ, our Passover (1 Corinthians.5:7,6; Colossians 2:16-19). In fact, strictly following traditions can very much be a hindrance to understanding - and living - our freedom in Messiah. However, there IS an order to the Passover meal, as demonstrated in Luke 22, Matthew 26, Mark 14 and 1 Corinthians 11. As Christians, in particular as Gentile Christians, our participation in Passover is a joyful celebration of God's gift of salvation to us through His Son, Jesus. We are not seeking merit through something we do, and certainly are not seeking to replace HIS People, Israel, but rather YHVH has grafted us "in among them" (Romans 11:17). Note, we are not grafted in among the branches that were broken out, but we don't "boast" against them either (Rom.11:19-21). It's a miracle! Enjoy it! Celebrate with Israel AND MOREOVER, in obedient remembrance of Jesus and this New Covenant (1Corinthians 11:25).
Concerning this Haggadah, It is not necessary to read the "Digressions" during the Seder, although they, along with the additional studies listed, are beneficial towards understanding Passover. Completing the Haggadah with Digressions takes about 5 hours. It is suggested that participants take turns reading, and save some material for your Passover week devotionals. Digressions 1, A, and B are recommended reading prior to, or along with the Haggadah.
This Haggadah originated and still borrows from Jim Searcy's Haggadah, and I am grateful that he has shared his work; however, we have different understandings on not a few areas, and hopefully this Haggadah will provide some additional insights.. To God be the glory in all these things.
As Passover 2019 begins along with the weekly Sabbath, some may wish to incorporate a few blessings from our Shabbat Sidur. The discussion therein regarding the Bread and Wine should provide helpful background to understanding them in the Passover Seder.
---
Index
(a) Passover Haggadah (For Christians) (online version)
List of Digressions:
Digression 1 The Lord's Supper is Passover; Jehovah's cup vs. the devil's cup
Digression 2 Easter and the Ancients, Astronomy vs. Astrology, Cain-Abel-Seth,
Eve & Satan, Abram's walk and The Gospel in the Garden.
Digression 3 The egg was added later by Rabbis. Cause for pause?
Digression 4 Afikomen is hidden. "He Came"
Digression 4.5 "Dark Energy" or "Let there be Light?"
Digression 5 Afikomen eaten, "He Came" or "It is Finished".
Digression 6 The Cross, Jesus is 'I AM", Why the Sun was darkened.
Digression 7 A Study Showing the Location of the Four Cups of Passover in Scripture.
Digression 8 The colors of garments that Jesus wore during his arrest and trial
match the colors of the veil.
Digression A Sanctification? Atonement? Propitiation? Remission? Forgiveness?
And Why All The Blood?
Digression B Whom do you say that Jesus/Yeshua is?
---
Additional Passover Study Resources:
Complex but well worth the effort:
The Truth About Jesus If You Really Want To Know
There are some twenty hours of audio lessons available that complement this book by R.H. Mount.
~~~
The Day Christ Died. by R.H.Mount
This was an early teaching and as Ralph learned more he changed some things. In The Truth About Jesus If You Really Want To Know, Ralph moved the date of Yeshua's last Passover by a day or so. While that may sound likely to invalidate the title, if you read this you will see that the core teachings still stand.
~~~~~~~~~~~~~~~~~~~~~~~~~~~~~~~~~~~~~~~~~~~~~~~~~~
Ralph Mount's Bible Apologetics Series
Mount's Apologetics Series consists of 45 lessons with about 20 pages per booklet, available here in PDF files. There is also accompanying audio teaching, which are now available online. While the audio adds much towards the understanding of the booklets, the booklets by themselves present much edifying teaching.
APOLOGETICS 1: PASSOVER IS THE LORD'S SUPPER
Passover IS the LORD'S supper. Passover is NOT the "Lord's Supper"
APOLOGETICS 2: FROM LUKE THE JEW, FOR JUDAS THE JUDGE
Jesus chose Judas, and Jesus gave Judas a commandment, which Judas obeyed.
APOLOGETICS 7: HAGGADAH THE MIRACLE →ISRAEL
APOLOGETICS 26: A HAGGADAH OF HOPE
APOLOGETICS 45: PASSOVER the 4--CUPS - A Haggadah
~~~~~~~~~~~~~~~~~~~~~~~~~~~~~~~~~~~~~~~~~~~~~~~~~~
Ralph Mount's Bible Discourse Series
Mount's Discourse Series consist of 8 lessons which go into a more detail in specific Bible study areas. The accompanying audio commentary for these Discourses is available upon request.
Before and After the Cross
~~~~~~~~~~~~~~~~~~~~~~~~~~~~~~~~~~~~~~~~~~~~~~~~~~
http://www.cotopaxi-colorado.com/Torah-Torah.htm
---
(a) Passover Haggadah (for Christians)
http://www.cotopaxi-colorado.com/Passover-Haggadah-for Christians-Homepage.htm
T h e C o t o p a x i a n P r e s s
Cotopaxi, Colorado
Copyright © 2015-19 Nelson Moore. All Rights Reserved.
Reproduction of this Haggadah for instruction/participation is permitted.
Contact nelson@cotopaxi-colorado.com
- ><((((º> -